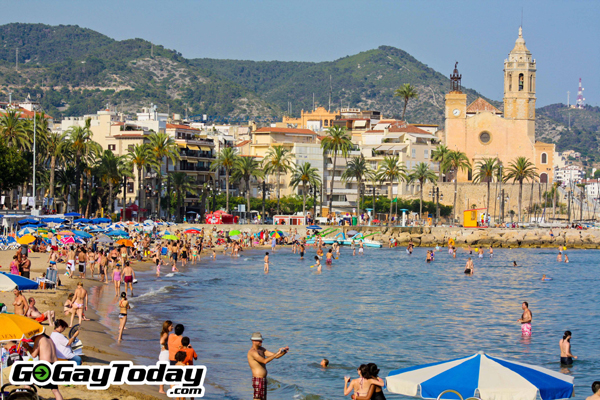 Sitges is home to some fun and beautiful beaches.  Whether you want a party atmosphere, au natural, or a quieter spot, it all exists within this seaside town.
 1. Playa de la Bassa Rodona – THE Gay Beach 
The closest and most popular beach in town.  5 minute walk from the town center.  To get there: Turn right when you get to the sea front. It's located between the Red Cross hut and Picnic restaurant.  Bake in the sun, go for a swim (you can walk out quite a distance) and meet new friends.  It's right across from the Hotel Calipolis.  Lounge chairs and umbrellas for rent.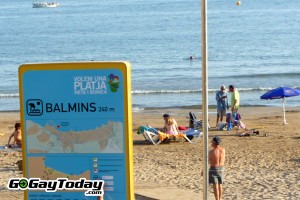 2. Playa Balmins – Gay & Mixed Nudist Beach
About a 15 minute walk from the center of town past the church and Playa San Sebastian.  The first section of this beach from the main path entrance is mainly straight.  A short walk to you right along the water and you'll come to the gay section – you'll know it when you're there.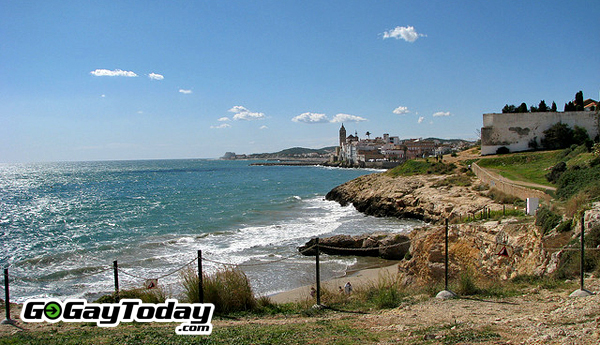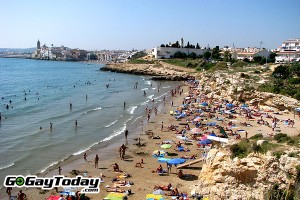 Throw down your towel and take off your clothes!  There is a small hut selling food and drinks on the "straight" section.  From town, walk towards the church, go past it, pass the following long beach (San Sebastian), then up the hill past the white cemetery (keep right) and you'll see it to your right. Down the hill and you're there.  Lounge chairs and umbrellas for rent.
3. Playa del Muerto – Gay Nude Beach
About a 45-60 minute walk from the center of town, past the Terramar Hotel and Atlántida disco.  Easiest way to get there is to take a taxi to Atlántida parking lot and walk about 15 minutes from there.  From the far end of the Atlántida car park, walk up the hill and along the train tracks.  (There are spray painted arrows showing the way.)  Be extra careful of any passing trains!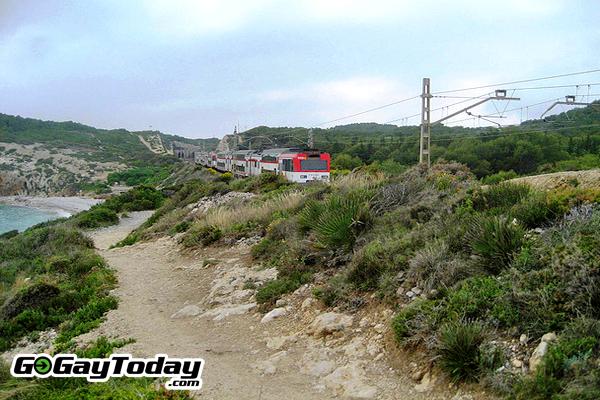 The first beach you come to where you see a rainbow flag, is NOT the one.  Keep walking over the hill to the next beach with a rainbow flag and path to your right down to the beach.  Playa del Muerto, is the oldest gay nudist beach in the world.  The beach here is mostly rocks, so shoes or flip-flops are suggested.   The water is a bit rougher here, so be careful of the currents.  There is a cafe selling food and drinks.  Lounge chairs and umbrellas for rent.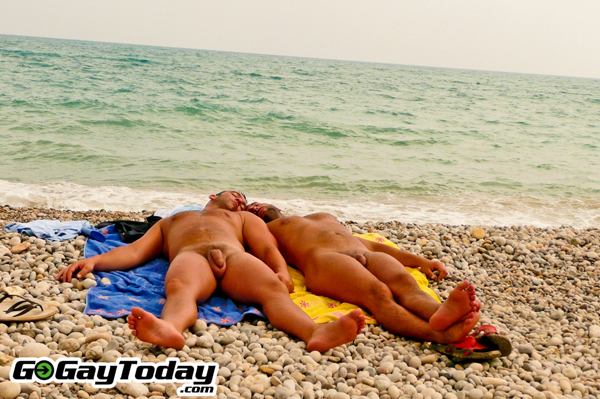 Directly across the train tracks from the beach, is a very popular and busy cruising area in the woods.  A fun hike to break up laying on the beach. Again, watch for the trains and HAVE FUN!!